Any mom of boys will tell you that it can be hard to find cute, stylish boy clothes. There are also less options compared to what you can find for girls. Walk into any kids clothing store and it seems that there are 5 girls racks to every 1 boy rack. It gets harder as boys get older too because in the beginning, infant wear is really sweet, but as you approach toddlerhood it's all character graphic tees and sports themes. Even though it is a little harder, I look at it as a shopping challenge and Ethan always looks super cute (at least I think so!)
I thought I would put together my tips and favorite places I shop for my little man. I plan on doing this every season as well to share my new favorite looks for little men!
Shopping Tips
1) Determine your little man's style
- I know this seems a little crazy but just like you have your own personal style, determine how you want your little boy to dress. I have pretty strong reactions to Ethan's clothes, I have a very particular look I like for him. For days he's at daycare or just playing at home I keep him comfortable so he can move freely, especially now that he's starting to crawl, stand and cruise. When we go out, I always take the opportunity to dress him up a bit. I like a preppy, "little man" style.
2) Shop early and often
- Before any holiday, I am scouring the internet months in advance to find and put together outfits. Stores work about 3 months in advance so for example: as soon as Christmas is over, Spring/Summer fashion hits the racks. After 4th of July, Fall/Winter fashion hits the racks. I shop early so that I have the best pick of options. If you wait too long you're going to be stuck with something you might not be crazy about and you already have less options for a boy.
3) Shop everywhere
- There are lots of places to find cute things and great deals on kids clothes. Outside of all of your favorite stores, another great resource are daily deal sites. Websites like Totsy, Zulily, Gilt, RueLaLa all feature great kids items. They also feature top popular brands at a lower cost. I've picked up Keen and Toms shoes for Ethan to wear this Summer and Fall and I paid half the retail price. You can also check out re-sales shops and online forums. Places like Once Upon a Child have great gently used clothing. I also belong to a Facebook group where local moms post gently used clothes, toys, books, etc. for extremely reasonable prices.
4) Always use a coupon
- I feel this way about any shopping, but especially with kids clothes, you can always find a coupon. And if you shop a lot on the internet, use
Ebates
and get free money for shopping online. I've already earned $70 since January by shopping online. Stores like Old Navy, Gap, Children's Place, and Carter's constantly have 20% and 30% off sales. For Gymboree and Crazy 8 I get coupons in Parents and Parenting magazine.
Favorite Stores and Current Styles


Gymboree
I like Gymboree most of the time. I think the clothes are great quality and hold up really well. I will say that I think their regular prices are insane and I never pay them. I only buy from Gymboree when they have a sale and I have a coupon or gymbucks. I have mixed feelings towards the way they present "collections." When they have a collection I like, I love it because then I can get a bunch of pieces that can be mixed and matched, but when there's a collection I don't like you have to wait a while before something new comes out. My favorite collections they have out right now are the
Little Peanut
collection and the
East Coast Harbor
collection. They are both classic, preppy and colorful. Gymboree also has really cute swimwear as well. I got Ethan this cute gator set!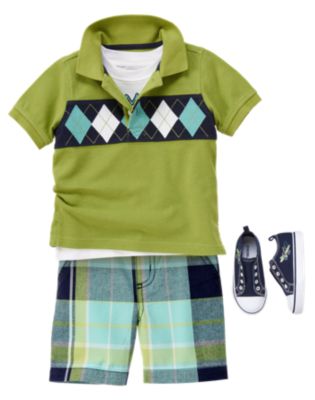 Crazy 8 is a store owned by Gymboree along with Janie & Jack. It's kind of like how Banana Republic, Gap, and Old Navy are all owned by the same company. Crazy 8 is the "Old Navy" in this family.Crazy 8 is similar to Gymboree in that it puts out "collections." However, Crazy 8's prices are more budget friendly. The quality is very similar to Gymboree. They have less collections typically then Gymboree but many times they will coordinate which I like. My favorite collections right now are
Set Sail
and their
Easter collection
is pretty cute too.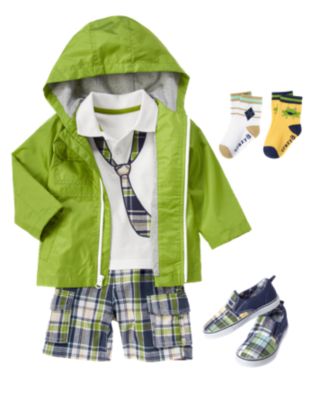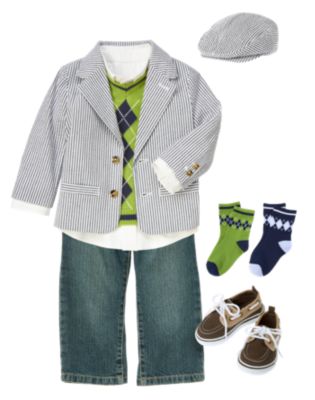 Old Navy
I love Old Navy, I always have. I would say 90% of my own wardrobe and 50% of Michael's wardrobe is Old Navy. I get a lot of Ethan's basics at Old Navy. If I ever have a girl I could do a lot more damage here! Their boys stuff is just ok. There are way too many graphic and slogan tees and less classic pieces for my liking. I like their pants, jeans and they have great basic onesies and tees.
When I think of Gap, I think of cool, classic style. I love any of their knitwear, it is so soft and washes well. They are a bit spendy, but have sales all of the time and their clothes hold up really well. Ethan's Winter coat is from Gap and he's been wearing it for 4 months now and it still looks brand new despite being washed about 10 times. They also have really cute accessories, hats, sunglasses, etc.
Carters
Carters is probably the most popular children's brand. It's very accessible since it's carried in other stores besides just Carters. You can find it at Kohl's, Macy's, even Meijer. They always have sales and coupons so you can get a lot for your money. I like Carters, mostly their Summer collections. I'm not a huge fan of all of the shirts that have writing all over them and that's a lot of what Carters has for boys. My favorite thing to put Ethan in over the Summer are rompers and Carters always has a great selection for an awesome price. They also have great basics and pajamas too.
Children's Place
I haven't bought a ton of things for Ethan at Children's Place. I got him some adorable Christmas PJ's there and they are known for their pajamas called "stretchies." They fit great and they have super cute prints and designs. Ethan's Easter outfit is actually from Children's Place. They had some new and different things for boys besides the standard sweater. Pricewise, Children's Place isn't very expensive and they have sales all the time.
Etsy
Another place to look is Etsy, especially for holidays, birthdays and special occasions. I bought Ethan a pumpkin t-shirt in the Fall to wear to the pumpkin patch, a Santa shirt to go visit Santa and he has a bunny shirt to go visit the Easter bunny in a few weeks. I think they are fun, festive and I like having his name on things. I also picked up a super cute bow tie for Ethan for his Easter look and I have my eye on these super cute button down monogrammed shirts but I wanted to wait until he's not growing as fast so he can wear it longer. Prices on Etsy obviously vary depending on the item and seller, but I love that the items are unique.